Pets at Weddings!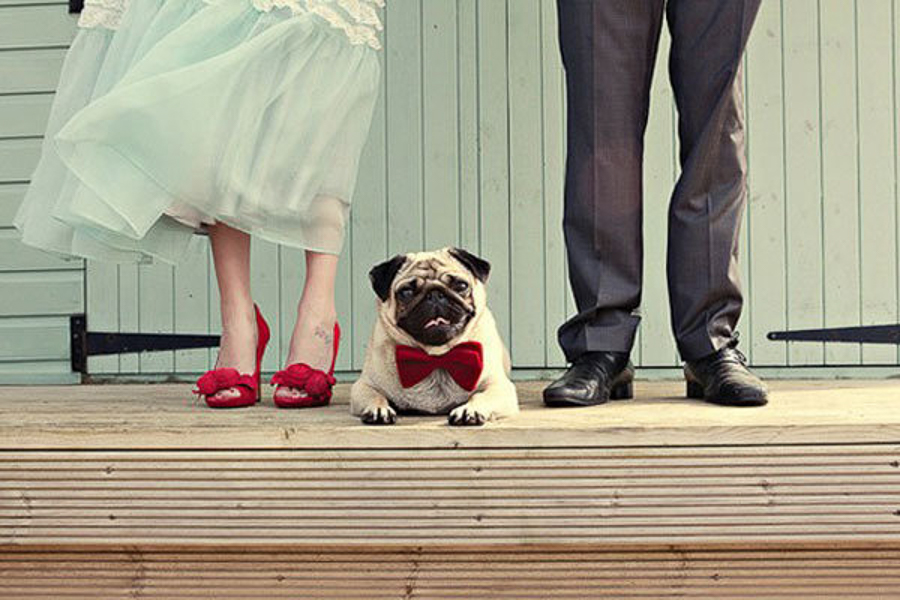 We have all seen those cute wedding pictures including pets in tux before right?
Pets are very often as children to many people and therefore it is normal that they are included on their wedding day. They can either have a certain role during the day or just be present and make an appearance on pictures. Normally though couples have their animal friends as ring bearer or flower girl.
This all depends on your pet's personality. You know the best how they would behave in the new place and especially full of people, if they are calm or nervous, if they will enjoy or it will be more stressful for them. You can make a trip to your venue before hand as well so they can get used to the place and all those smells. If you know your pet will not last during the whole day maybe have them with you for the ceremony and pictures and later on have someone to drop them back home.
First important thing is to ask your venue if they allow animals in the venue. If they do in general maybe you can also invite your guests pets and make it very animal-friendly wedding. However if they do not allow them maybe you can check if it would be ok to make an exception just for the ceremony and pictures. Make sure that you set up an area with loads of water and food for them and if you will have more than one animal among your guests why not to think about hiring a pet sitter to make it easier for everyone.
If you are dressing up your pet for the day make sure that you consider the weather. Do not put something really heavy on them if it is supposed to be very hot. Double check their clothes before the event to make sure that they suit them well and they are comfortable, otherwise you might risk them being annoyed the whole day. Also we would suggest not putting too much accessories and stuff on them.
Do not forget to advise the photographer so he or she can keep an eye on getting the best shots of your pet during the day and you should also let your guests know. Maybe someone has an allergy and it would not be pleasant situation for them to spend whole day sneezing.
If for some reason you cannot or you are not allowed to have your animal friend on your big day you can always remember them by having their picture positioned somewhere you can see it during the day. If however you are big animal lover and do not have pet on your own or you are having a wedding abroad you can also hire pets. It is very common these days and we are not only talking about dogs.
If you need any help with arrangements for your pet on the island please let us know here at Mambo Weddings :)