How to be the perfect wedding guest!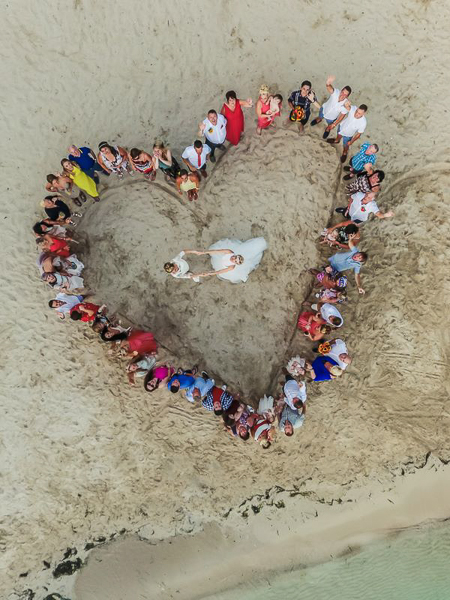 Have you received a wedding invitation?
If you have not attended that many weddings in the past and you are worried about creating some faux pass continue reading below. Today we wish to talk about some basic manners you should follow at such an important occasion such as wedding.
Receiving an invitation
Couples normally send their invitations to guests about six to eight week's time before their wedding. After checking your diary and making sure you can take this time off work and you wish to attend this event do let them know as soon as possible. They have to advise their vendors about final numbers no less than 2 weeks before the date and you do not want to create more headache for them as they already have. Some invitations come with the response card you need to send back and for less formal weddings you can either reply on their wedding page or sometimes by text message.
If you have confirmed your attendance to the couple, however cannot make it in the end always do advise them about this changes. They prefer to know in advance rather than having you not showing up. Also one must be careful about inviting a plus one. Depending if your invitation states only your name or it says also plus guest you know if you are allowed to bring someone with you. The same rule applies on children. If your invitation states family you know they are welcomed. If however it only has your and your partners name do not get offended and make another plans for your kids.
The gift
If you have accepted an invitation you should always get a gift for the couple. If you have decided for some reason not to attend a wedding you can but do not have to get them a gift. It is always nice to think about something especially if they are your family or very close friends but make sure to at least send a 'congratulations' and 'thank you for inviting me' card.
Most couples have a registry list somewhere and often you can find all their details on the wedding page. Otherwise check with their closest family for more information. Unless you have any special and personal gift for them it would be great idea to just get something off the list as you know for sure they will like it as they picked it themselves. Sometimes couples ask for money especially if they already lived together for longer and their home is already set up so do meet their requirements and contribute for their honeymoon or any other thing they wish to save for.
Once decided what to get for the happy couple make sure where to send it. Sometimes shops they made their registry at can deliver the gift for you and if not you can always talk to someone from their family or send it to their house if you know the address. Do not bring your gift with you, as it will be more hassle for you to carry it the whole day around and also because it could get lost at the venue.
What to wear
Normally you can get an idea about the type of event regarding the time and place stated on the invitation. Also the formality of invitation could tell you a lot. Sometimes the couple gives you more solutions on their wedding page as well. Make sure to always look nice and if it is more formal event to wear tuxedos and tie. If the event is taking place at specific religious sites or it is very religious wedding make sure to wear appropriate clothes and not to show too much skin. Especially women half of audience should never wear white at the wedding not to take away bride's attention. If you have not been advised otherwise (normally Mediterranean weddings require their guests to wear white because of the heat and tradition) this color is not permitted and it could be taken as an insult.
The ceremony
Ceremony is normally the most important part of the wedding. Make sure you are always on time and be at the sight at least 30 minutes before the actual time stated on your invitation. If you are running late for some reason before entering make sure the bride is not about to walk down the aisle as we believe she would not be happy for someone to see her. If you know they are waiting for her you can run quickly to grab a seat otherwise it would be better for you to wait outside. If you are attending religious wedding you do not need to follow their traditions, however you should behave politely and stand up and sit down when asked to do so and make sure your phone is on silence. Always attend the ceremony, as it is fairly rude to skip this and just show up for the party. If you however had a reason do apologize later on to bride and groom.
The reception
First thing you normally see when you arrive to the reception is a couple welcoming all their guests. Stop by, as this might be your only chance to say 'Hi' and congratulate them. Do not spend too much time especially if the wedding is big and many people are waiting to do the same thing. Normally cocktail hour and guests mingling around would follow this. You do not need to wait to be advised to sit down and do so whenever you feel like it. Important is that you always check the seating plan and introduce yourself to the rest of the table. Bride and groom normally seat people together on tables because they think you will have something to talk about so try to make conversation with everyone not just with people you knew from before.
It is not said that the party starts right away after your meals had been cleared of the table. Wait for the couple to have their first dance and then it is appropriate to join the dance floor. If you do not like something about this event it is better to keep it to yourself as the rest might have different opinion about it and you do not want to ruin someone's night. It is not suitable to post picture from the wedding online and nowadays couples often mention this to their guests as no one wants to see their wedding pictures up before the event even ends.
If you are in rush or cannot stay till the end you should at least wait for the cake to be cut. Try to look for someone from the bride's or groom's closest family to thank them as the couple will be probably really busy themselves. Never leave without advising someone.
If you wish to know more about the wedding etiquette do not hesitate to ask us here at Mambo Weddings