So as you guys could probably guess in today´s article we will talk a little bit more about decoration planning and ideas. As we mentioned in our previous post do not stress if you have already planned your décor as trends are constantly changing and also you could always just add some little touch, which will not cost you a fortune. 
First of all before we start with the ideas we want to mention the importance of wedding décor list if you are still at the beginning of the planning madness. It is important to have a clear idea of what you are getting from your wedding planner if you have hired one. Then the next step would be to divide your list into sections. We believe the main ones should be Ceremony Décor, Dinner Table Décor and Reception Décor. Then based on the size of the venue and of course your budget think through each of these sections and write down what you wish to include. You can see many decoration ideas all over the internet but it is good to remain realistic. Then you could start preparing your board either on a paper or on websites such as Pinterest. Start pinning the colors you and your partner like, what kind of materials you like and what your general style will be. One major tip we would like to give you is if you are organizing your wedding outside think about the size of the venue. It is always harder to decorate outside than just one room inside. However sometimes you might find such magic venue that they do not really need much decoration.
Once you have all these basics sorted you can start thinking more in details. These would be things such as what kind of flowers you like, how your centerpieces should look like or what cake to order. However, I believe every couple has quite clear idea of this already in advance. We would like to remind you few other things you might not have thought of and maybe it is not really decoration but they could make your wedding more enjoyable and funny. Guestbook would be the first one to talk about. I believe everyone has one of these on their special day and there are so many options out there to make this special. If you prefer a regular book there are many sizes and designs available but if you are looking for something little bit different you could look for polaroid camera so your guests can attach a picture with their wishes, or very popular now are also finger print guest books however do not forget to use special color which can be easily washed off with this. Another would be definitely the seating plan. This might seem quite simple task and for most people it is dividing guests onto different tables, looking for the design and having it printed off. However there are many cool ideas of how to let people know which table they are at and it could create part of your decoration. The other day we had a couple who have decided to have shots of tequila, with lime and name tags as the welcome drink. This was fun and handy as people could easily find their place. Lastly a couple of things which could be part of your décor are party favors and games. As we have mentioned in our previous article games are very attractive for your wedding guests and you can find loads of easy DIY ideas all over the internet.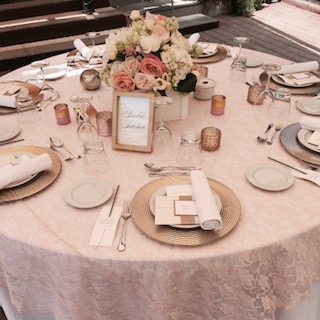 We hope we gave you some useful tips in this article and do not forget that if you need some help with your decoration or wedding in general here in Ibiza you can always contact us for some more information.
Your Mambo Weddings Team